Built-ins are great space savers for any home.
What can McCabinet do for you?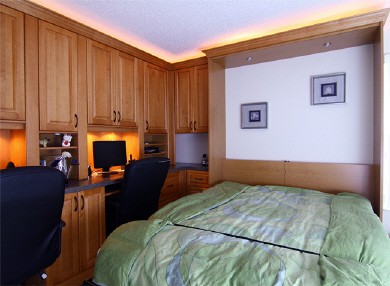 A Built-in makes it so a room doesn't have to be serve just one purpose; it can be an office, library, gym or computer room. McCabinet can build and install a custom Built-in within any room in your house.
Call us today for a quote or design and ask about our stock cabinet sales.
Whether it's a bedroom, dining room, fireplace, nooks, or crannies, if you have a small or large space to fill, why not buy perfectly designed built-ins to add more storage, style and warmth to your home.

With the help of our talented designers, your built-ins will be exquisitely designed and highly functional to fit the needs of you and your family.
If you're looking to create a guest bedroom, but just don't have the room, we create custom murphy beds to seamlessly transform a home office or den into a stylish guest bedroom.
Our Process:
Before you visit us at our showroom, please take basic measurements and pictures of the area where you'd like to install built-ins.
Once you arrive at our showroom, we will get a general sense of your personal design taste and will present you with different cabinetry options that will suit your style and needs.
Your designer will create a general mock up of your built-ins, with different options of storage, accessories and finishes.