Meet McCabinet Designer: Jessica Jones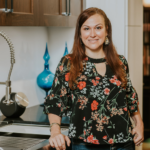 We are so happy to bring you our latest installment of our Meet the McCabinet Designer. Jessica Jones is one of our newest team members so we are excited to help introduce her to you all. Please help us welcome her and learn a little bit more about her below.
Where were you born and raised?
I was born and raised in Tampa, FL. I left for 3 years when I was stationed in El Paso for 3 years (Army) and I moved all the way to St. Pete 5 years ago.
How long have you been with McCabinet?
I've been with McCabinet since October 2020.
How did you get started in the industry?
Watching too many HGTV design shows. Enrolled at IADT to earn an Interior Design Degree. First job was designing outdoor kitchens. I've also been an event coordinator at a country club and an office manager at a land development company.
What is your favorite part about design work?
Every day, I wake up excited about my job. I enjoy meeting new people with wide ranges of styles and ideas. I love the challenges each project presents because it is constantly pushing me to learn more about my industry. However, the best part of my job is getting the opportunity to make a space better – whether it is stylistically, correcting the flow and traffic patterns, or just maximizing the ability to make the space more organized and functional.
Which room is your favorite to design?
I love designing outdoor living spaces because I'd prefer to be outdoors.
Which project are you most proud of and why?.
I am really proud of the home renovations I've taken on in my personal life. I am hands-on and love the challenge of learning something new. Each project taps into my creative side, plus I get to sit back and watch my ideas come to life.
What is your favorite part of your job?
The best part of my job is working with such a wonderful team of people. It's a fun-family environment that makes "work" fun.
What are some design elements you love when customers add in?
Bold designs
What is your personal design style?
My personal design style always incorporates bold patterns and statement pieces or art. I tend to be very eclectic because each project has its own personality.
Do you have any hidden talents?
I do not think I have any "hidden" talents, so I asked my mom & sister and they said "…."
Do you have any pets?
My kid's have a dog, so therefore, I have a dog. He's a min-pin, and I named him "Mike Tyson" (which suits him perfectly.)
What's your favorite way to spend a day off?
On my days off, I am visiting my family or getting involved in some construction project around the house or upcycling furniture. But my favorite way to spend a day off would be traveling to new cities and enjoying different foods and cultures.
LIGHTNING ROUND
Chocolate or vanilla?
Chocolate with extra chocolate
Coffee or tea?
I have to drink Espresso daily.
Ocean or lake?
Ocean
Cold or hot weather
Both
Sweet or salty?
Salty
Extrovert or introvert?
Extrovert
Favorite local hangout?
St Pete Pier
Favorite food?
I am a pizza-nator. If that was the only food I could eat for the rest of my life, I'd be happy
Favorite color?
Yellow
Favorite sport?
Not into sports
Contact a McCabinet Designer Today
Thanks to Jessica for taking the time to allow us to get to know our new McCabinet designer! We are so happy to have you as an integral part of our design team.
Learn more about our team or contact us now.