Meet the Cabinet Designer: Christina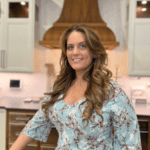 We're incredibly happy to introduce you to a talented new face to join our award-winning cabinet design team. Keep reading to learn a little more about Christina Rivera and help us welcome her to McCabinet.
Where were you born and raised?
Long Island, New York
How did you get started in the industry?
I initially studied Drafting and Design for a career in architecture. After experiencing design with cabinetry in a retail employment position, I discovered a passion for interior design and pursued a remodeling career.
What is your favorite part about design work?
Discovering a space's full potential in design and function and watching that transformation come to life.
Which room is your favorite to design?
The Kitchen of course 🙂
Describe a project you've done that you are most proud of and why?
Hmm, I would have to say a country style, 2 toned Kitchen for a lovely family. They had a specific design and style in mind that I was able to take to another level, they never thought possible! It was the most rewarding experience to see the look of amazement from the family as they explored the design and functionality of their kitchen.
What is your favorite part of your job?
Being Creative! Allowing the freedom of imagination to guide me to a practical, functional design.
What is your personal design style?
Earthy, transitional, modern lol I like mixing it up while maintaining a flow.
What are some design elements you love when customers add-in?
Cabinet interior accessories. It's such a great way to elevate the space and tailor it to specific customer needs.
Do you have any hidden talents?
I can do card tricks.
Do you have any pets?
I have a very harry cat named Potter.
What's your favorite way to spend a day off?
Typically enjoying time with my family, shopping, going to the movies and taking a break from cooking and going out to eat.
CABINET DESIGNER LIGHTNING ROUND
Chocolate or vanilla? Vanilla
Ocean or lake? Ocean
Cold or hot weather? Hot, I'm in Florida 🙂
Sweet or salty? Both
Extrovert or introvert? I'd consider myself an Ambivert
Favorite local hangout? I don't have one yet.
Favorite food? Too many, hmmm I'll go with Chicken Parmesan.
Favorite color? Teal
Favorite sport or team? Baseball
Contact McCabinet Custom Cabinetry
Meet this amazing McCabinet designer for yourself! Schedule a visit to our Largo, FL showroom or call us today at (727) 608-5929.
You will be blown away by the skill and expertise of our entire team, from the designers to installers, support staff and everyone in between! If you're looking to add custom cabinetry to your home, don't do it alone. Contact us today!