Choose McCabinet for all of your quality cabinet needs
Meet McCabinet President, Brian McKenzie and our award-winning team.
Visit our showroom in Largo, FL today!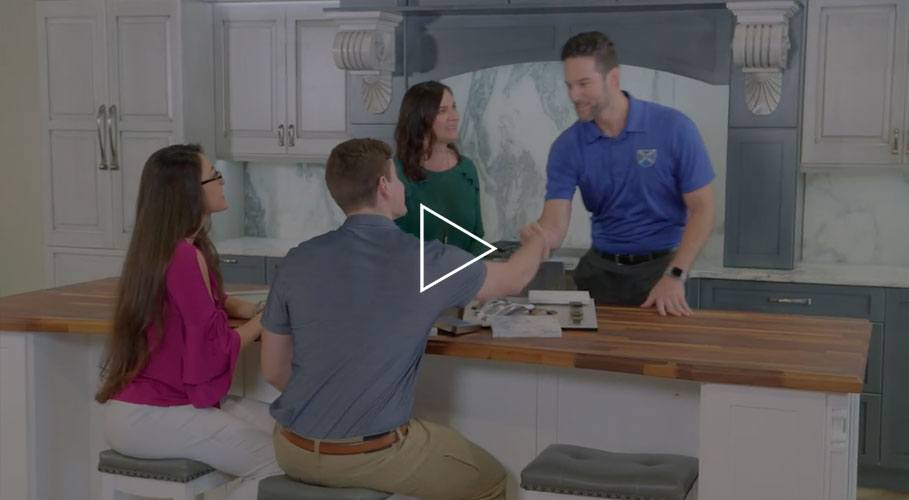 Custom Cabinetry Design from McCabinet
At McCabinet, we offer affordable cabinets, custom cabinets and everything in between. Meet with our design team at our Largo, FL showroom to bring your vision to life. We offer an extensive selection of American-made cabinets as well as imports at price points to meet every budget. If you can dream it, we can do it; there is no job too big or too small.
Our award-winning design team can help you with kitchen, bathroom and closet design – but we don't stop there. We also design outdoor spaces, laundry rooms, entertainment rooms and more! From small kitchen spaces to expansive built-in storage solutions, McCabinet has you covered, no matter the size or scope of your project.

The McCabinet Design Center in Largo, FL
When you visit our Largo design center, you'll fall in love with our innovative and professional designs and competitive cabinet prices. You'll be inspired by our kitchen designs and impressed by our selection of cabinet brands, cabinet finishes, and hardware – all under one roof. You can also select countertop finishes and backsplashes right here in our showroom. If there is ever something we don't have, we will find it for you. Customer service and satisfaction is our top priority, and we will work tirelessly to get your job done perfectly.
Design, Service, Quality – that's our motto – and every job we complete shows our dedication to our craft. Our installation team is simply the best in the Tampa Bay area. Our installers are employed by McCabinet full time, meaning they are always held to the highest standard; we never outsource installations. The cabinet installation team is so fantastic, we actually have a term for their work, McCabinetizing. McCabinetizing means we leave your project clean, adjusted and completely perfect – just how we would want our own installation.
Meet with a design specialist today to get your project started, and we'll walk you through every step of the process. We can't wait to meet you.
Take a Virtual Tour of the McCabinet Showroom
YOU DREAM IT. WE CREATE IT.
Our team with help you build the project
of your dreams.