Offices and libraries are a luxury that once you have one becomes a necessity.
What can McCabinet do for you?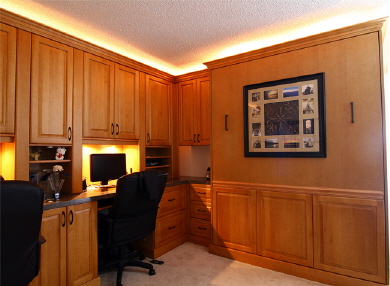 McCabinet has the ability to build very custom to semi-custom office cabinets to maximize space and convenience. Office cabinets for all your books and documents, and a place to work on your computer at home that's organized can really make your home special.

Call us today for a quote or design and ask about our stock cabinet sales.
If you are working at home, it might as well be pretty.

A custom designed home office will enhance the experience of working at home, and whether you're managing your household affairs or your home office is the home base for your company, the space should be a place you want to work in. Our award-winning designers will ensure that your custom office will be seamless, stylish and efficient. Whether you have a big or small office, our designers will design the perfect office space for your organizational needs and style.
Our Process:
To create your custom office, begin with basic measurements and photos of the space you'd like to have as your office and include everything you'd like to store in your office.
Also, have some ideas of what you'd like your home office to look like. Provide some images of inspiration and our designers will do the rest.
From there, visit us at our showroom so we can get an idea of your style and needs.
Then, your designer will create a 3D rendering and provide several price options with different finishes and accessories.