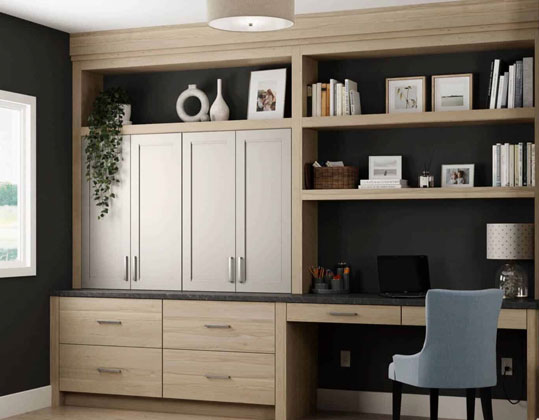 McCabinet has the ability to build custom or semi-custom office cabinets to maximize space and convenience.
As more and more people begin working from home, and work hours blend into home hours, office cabinets for all of your books and documents, and a customized workstation help you stay organized and keep you on task, are more important than ever.
An office/library should be functional, stylish and most importantly, customized to your needs. McCabinet has an experienced team that will guide you through the process.
Here are some of the most common questions we get asked.

Who needs a home office or library?
For many, a home office is no longer a luxury, but a necessity. Whether you work from home for business, or simply to manage your household affairs, a home office can be a fantastic option to enhance your space.  With many companies moving to flexible working schedules, more and more people are becoming work-from-home agents.
We also work with many clients who run businesses out of their homes.  While these offices tend to be a bit more elaborate, ultimately, your home office should be a place you enjoy working in.
Our award-winning designers will design the perfect office space for your needs and style.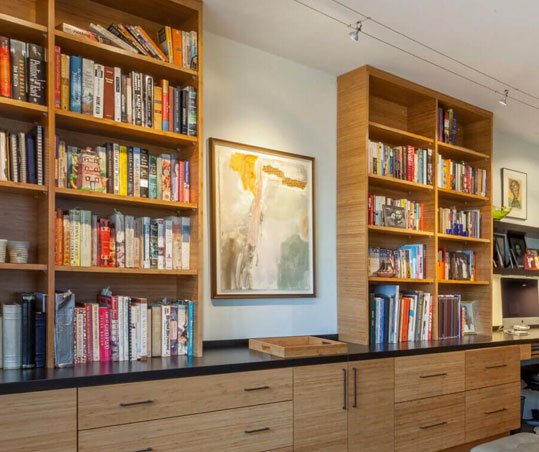 What should I take into consideration when planning a home office design?
Start thinking of your design by thinking through your working style. Do you spread out all your documents for a visual representation of your to-dos? You may need a larger desk working space.  Do you like to walk around when you take phone calls? You may need more open space in your design plans. Standing desks have become more and more popular over the years as well.  This is something you may want to consider if you have back problems or simply want to feel more alert while working. At McCabinet, you can work directly with a designer who will guide you through your design options and help you think through what will best suit your needs.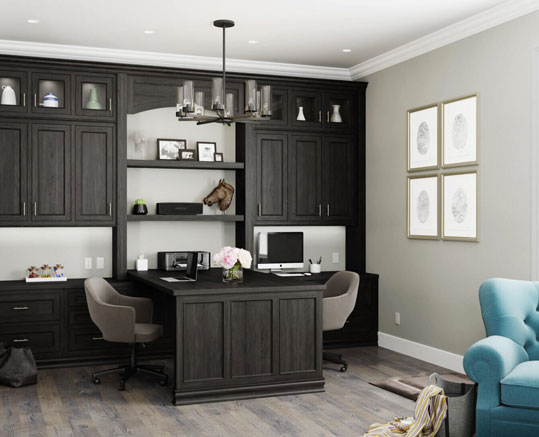 What are some of my design/style options for a home office?
If you can dream it, we can do it. Some of the main themes we see in home offices are:
MODERN:
Featuring clean lines and minimalist furniture.
TRADITIONAL:
Consisting of a heavy executive-style desk, bookshelves, and cabinetry- typically in a darker wood, like cherry, mahogany or walnut.
CORPORATE:
Pulling inspiration from corporate offices, often featuring hardwood floors or Berber carpeting, upright leather seating and a fine art print or two keep the vibe businesses-like.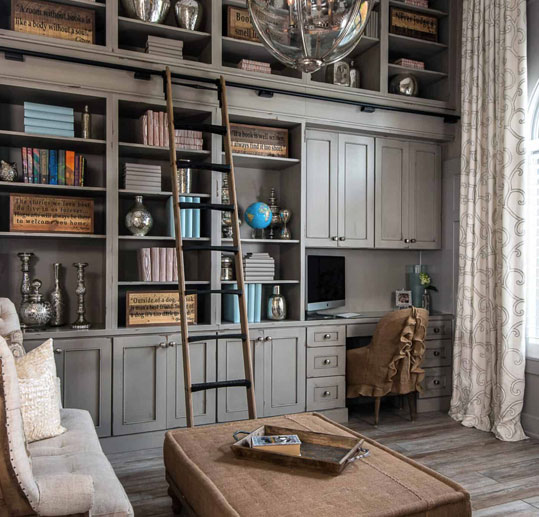 YOU DREAM IT. WE CREATE IT.
We can build you the home office/library
of your dreams.