A spacious and well designed closet is essential.
What can McCabinet do for you?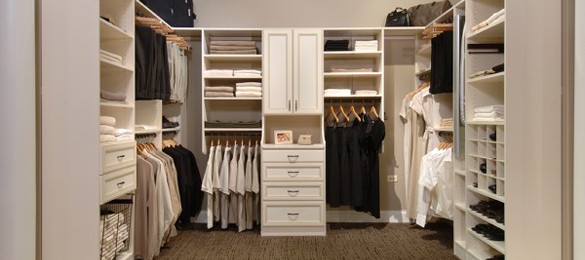 At McCabinet, we believe that in a day and age where storage space is at a premium, a home's closets should receive as much attention as its kitchens and bathrooms. We offer high quality closet systems in a variety of solid colors and wood grains to fit your style. We offer innovative accessories and hardware systems and the expertise of our designers who can help you create functional and creative storage solutions.

Call us today for a quote or design and ask about our stock cabinet sales.
Your day begins and ends in your closet. It should be a place where functionality and exquisite design intertwines, where everything has a place and everything is in its place.
Whether big or small, your closet design should be uniquely you and reflect your personality and lifestyle. The careful design of your closet is meant to make your daily routine effortless, while still keeping your personal design style in mind.
Our team of award-winning designers will work with you every step of the way to make your dreams a reality. Anything from a basic to a fully remodeled walk-in closet, you are guaranteed to love it.
Our Process:
The process to create your closet design will begin with a visit to our showroom.
We ask if you would take general measurements of your closet, take pictures, make a list of what you want to fit into the space, (such as how many long dresses you own or how many pairs of shoes you own) before your visit.
We will present you with a rough design and show you many different options for shelves, drawers, knobs, etc.
We will provide you with a general price while keeping different finishes in mind.
Once you have chosen a design, we will come out to your home and take measurements and soon after, begin installation.