From Family Dinners to Friendly Gatherings, Your Kitchen is the Heart of the Home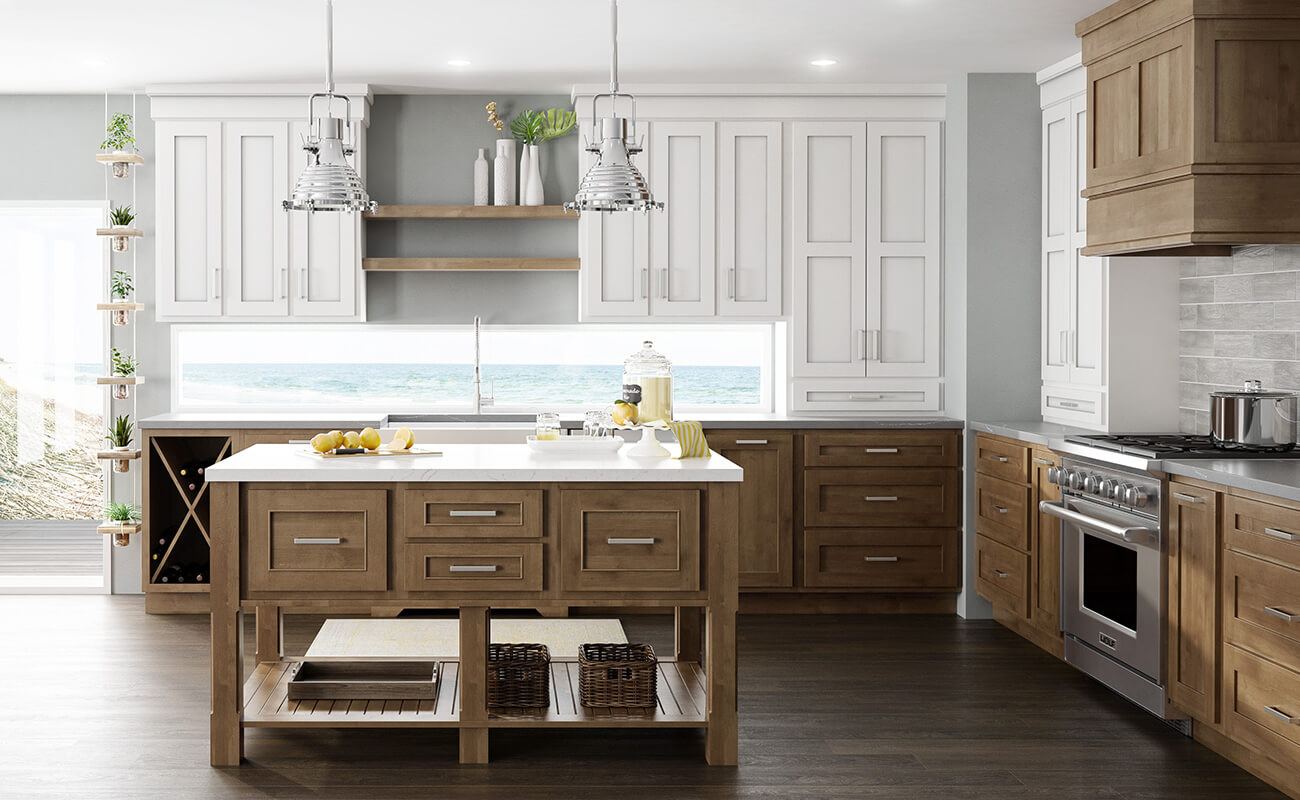 Your kitchen cabinets are a reflection of you. Whether you prefer a traditional, contemporary or modern aesthetic, McCabinet will make your dream design become reality.
Visit our Largo, FL cabinetry showroom and meet with one of our award-winning designers. Our team is with you every step of the design process and wil guide you through our wide selection of on-trend, yet timeless kitchen cabinet brands, colors, doors styles, hardware and custom features.
At McCabinet, we pride ourselves on competitive pricing, quality fabrication, and installation timeliness. With a team of highly experienced cabinet installers we install cabinets the way we would want them installed in our own homes.

A lot goes in to designing and creating your dream kitchen.
Our team has been creating beautiful custom cabinetry for Tampa Bay area homeowners and contractors since 1995. Twenty-seven years experience building beautiful custom kitchen cabinetry means we know exactly how to complete custom kitchen cabinetry projects to perfection.

Here are some of the most common questions we get asked about re-designing or remodeling your kitchen:

HOW MUCH MONEY SHOULD I SPEND ON A KITCHEN REMODEL?
When renovating, it is important to consider your investment parameters. Always factor your current financial situation into the equation. The suggested amount to spend on a kitchen remodel is typically between eight to 16 percent of the value of the home. An eight percent investment usually includes replacing cabinets and countertops but maintaining the original kitchen footprint. An investment on the higher end may be more extensive and include a full redesign with new cabinets, countertops, appliances, flooring, and accessories. Spending more or less than the recommended percentage can lead to a lower return on your investment.
The experienced designers at McCabinet can help you determine what kitchen designs could be best based on your investment comfort level.
WHAT OTHER CONSIDERATIONS SHOULD I CONSIDER BEFORE SELECTING KITCHEN FINISHES?
Your living situations play a large part in what type of cabinets would work best for your family.
IF YOU PLAN TO SELL YOUR HOME SOON:
Most people in this situation should stick with a stock cabinet, or alternatively, chose imported cabinetry, which tends to be less expensive. Choose finishes that are in style right now, to make the kitchen feel contemporary and up-to-date. Countertops should be chosen to complement the cabinetry, and should not be an emotional splurge for the current homeowners.
IF YOU PLAN TO STAY IN YOUR HOME FOR AT LEAST FIVE YEARS:
The main objective in this scenario is to select a design that will last the test of time without breaking the bank. Work with your designer to select a timeless style, staying away from anything too trendy. Typically, it is suggested to spend 8-12% of the home's value on this sort of renovation.
IF YOU'RE IN YOUR "FOREVER HOME":
This is where you can get creative, have some fun, and completely customize your space. In your forever home, you are no longer considering the redesign of your space an investment, but as an opportunity to create a kitchen your family will love for years to come. It is recommended to spend 10-16% of the overall home's value.
HOW DO I PICK A CABINET DESIGNER?
Selecting a kitchen designer is a big decision that often makes the difference between good kitchens and great kitchens. Reviews and testimonials are great ways to investigate different designers. At McCabinet, our designers are well-versed industry professionals that will work hand-in-hand with you to customize your space to your needs. We will help you tie the kitchen into the rest of your home to create a seamless design. We pride ourselves on our ability to connect with our customers and create functional, comfortable, personalized spaces. Learn more about our designers, and meet our team!
HOW DO I SELECT FINISHES?
When designing your kitchen, there are a lot of selections that need to be made – from the cabinet construction to the door style to hardware and finishes. The best way to begin the process is by collecting photos of kitchens you like and reviewing them with your designer. Your designer will review the inspiration photos with you and help you customize a space that will work perfectly for you and your family.