What to Expect at Your Kitchen Design Consultation
Every design project should begin with a thorough consultation.  At your kitchen design consultation in our Pinellas County showroom, you will meet with your designer and get expert advice, leaving with a clear understanding of budget and next steps for your project.
Despite how simple design and remodeling looks on TV, a lot of pre-planning and detailed work goes into designing your space, whether it's a new kitchen, bathroom, closet, or laundry room. Designers combine your inspiration and ideas with precise measurements and in-depth knowledge on cabinetry types and design trends to ensure your final space is not only beautiful, but functional.
Before you meet with your designer, you'll have some homework to do.
Gather Kitchen Design Inspiration
Design magazines, blogs, and our favorite, Pinterest, are all great places to get inspired! Think about what feeling you want your space to have. Do you want a rustic mountain cabin or a beach house vibe? Do you love modern, clean lines or are you more drawn to traditional designs?
You can find inspiration anywhere – a restaurant with a great open kitchen, or your friends house with a beautiful guest bath. Snap photos, tear pictures out of magazines, save your Pinterest boards, and bring all of this in to your consultation.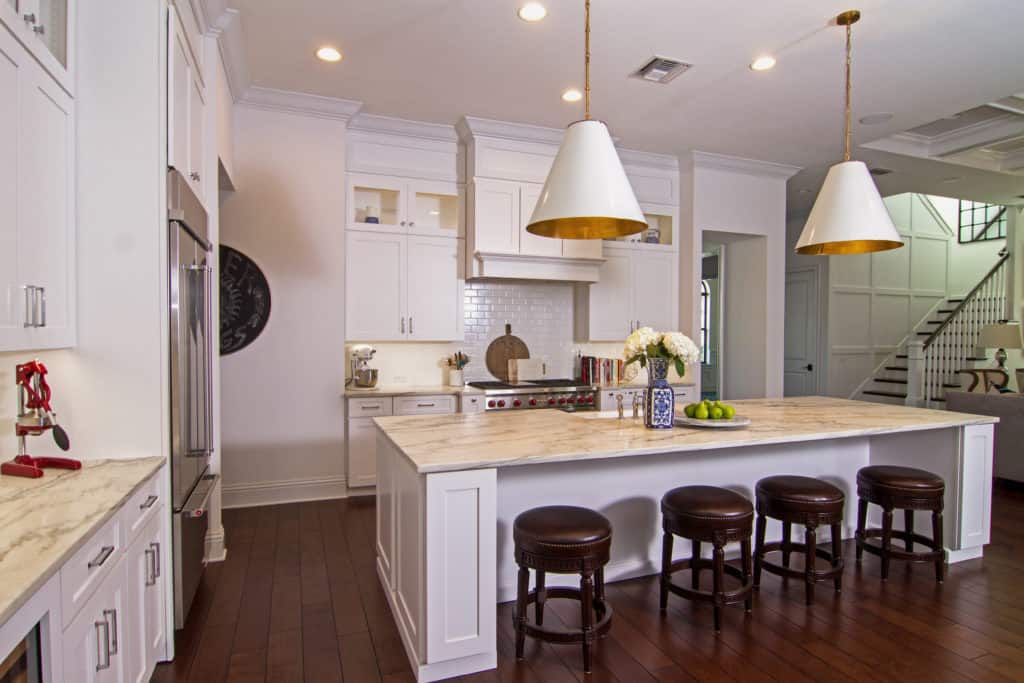 It's important to remember that our designers are trained to help YOU create YOUR dream space. The more inspiration imagery you're able to provide, the better you'll be able to communicate your aesthetic to your designer.
Take Kitchen Measurements
At McCabinet, we will provide you with a simple worksheet for taking basic measurements in your space. This will help your designer begin to see the possibilities your space holds. Prior to finalizing designs, your designer will visit your home to take precise measurements. These initial measurements are simply to help your designer begin visualizing possibilities.
Another necessity is to bring in current photos of your space. Again, this will be used to help your designer begin to see the potential in your space.
Consider Your Kitchen Appliances
If you will be keeping your current appliances, you can provide measurements at your design consultation.
Should you be updating or upgrading appliances, consider what types of appliances you're interested in. Many appliances come in industry standard sizes, but when designing your new space, you can get creative and think outside of the box. There are beautiful options that blend seamlessly into your cabinets, or fun, colorful options that will stand out in a sea of stainless!
Your designer can also help you with some ideas for appliances if you are unsure!
Once your homework is complete, you're ready for your first design consultation! Plan to spend a few hours at this first meeting. Make sure that all decision makers are able to attend, as this is when you will have the opportunity to show your designer your inspiration photos and discuss your likes and dislikes.
Review Your Current Space
Your appointment will begin by showing your designer your current space and discussing what changes you are ready to make. You'll provide the room measurements you took and show any photos that you brought of your current space.
Discuss Your Desires for Your New or Updated Space
This is where all those inspiration photos will come in handy! You will review how you want your space to feel and what your "must haves" are. This is a great opportunity to discuss the pain points in your current space, as a designer may be able to incorporate great solutions into your new space. Your designer may have a few additional questions for you, and may propose a few new ideas you had not thought of yourself.
Review Kitchen Design Options
This is the fun part! Your designer will show you different options based on your inspiration, and you will discuss likes and dislikes. You will be able to review the features and benefits of different types of cabinetry and countertops and determine which will work best for you and your family's needs.
If you have already selected any finishes, like flooring or backsplash, be sure to bring a sample. This way, you'll be able to see how all the pieces of your project will fit together.
McCabinet has plenty of options for cabinets, hardware and countertops in the showroom to help you complete your project. Take your time and browse through the showroom, you're guaranteed to find something you love.
Ready to start the design process? McCabinet believes that every room of your home should be beautiful and functional. Our award-winning design team will help you turn your design dreams into reality. 
We look forward to welcoming you into our showroom for your first design consultation. Contact us today to get started.