Cabinetry Trends: Custom Mudroom Cabinets
Looking at the latest cabinetry trends and thinking, I need custom mudroom cabinets? It's that one anomaly where you can just accept the mud. But, that's no excuse for it to become the muck room. No longer lend this room to a single wet coat and filthy pair of shoes. This space is your "middle ground" between your cozy, clean home, and the outside chaos. Confine your mess. Make your trending new mudroom functional, customizable, and versatile. Keep reading to learn more about adding custom mudroom cabinets to your home, from the expert cabinetry designers at McCabinet.
Mud Room History
Centered around farmhouses, back rooms were used to remove dirty clothes and muddy boots before entering the home. The name "mudroom" was then appointed as it was the initial entrance to drag the outside in. Through time, mudrooms became more operative to shrug off a backpack, kick off your shoes, and function as catchalls for coats, hats, bags and more.
Multi-function Mudrooms
This space sanctions you that one area to kick your shoes off, throw down your bag, and naturally capture your knick-knacks. Your mudroom should be one of the most useful spaces in your home to contain the clutter. Allow this room to be high functioning. This area is great to incorporate an abundance of additional benefits. Include custom built-ins to maximize your storage space, pull out counter tops for easy folding, space-saving shelves, and storage benches for double-duty roles.
Homes with pets, and children? Consider an oversized basin to fluff your scruff, or buff those mucky boots. Add a washer and dryer to double as a laundry headquarters. Allocate floor to ceiling built-in cabinets for out of sight cleaning supplies; Or storage benches to conceal the mountain of shoes. This room is made for your never-ending clutter dreams to come true.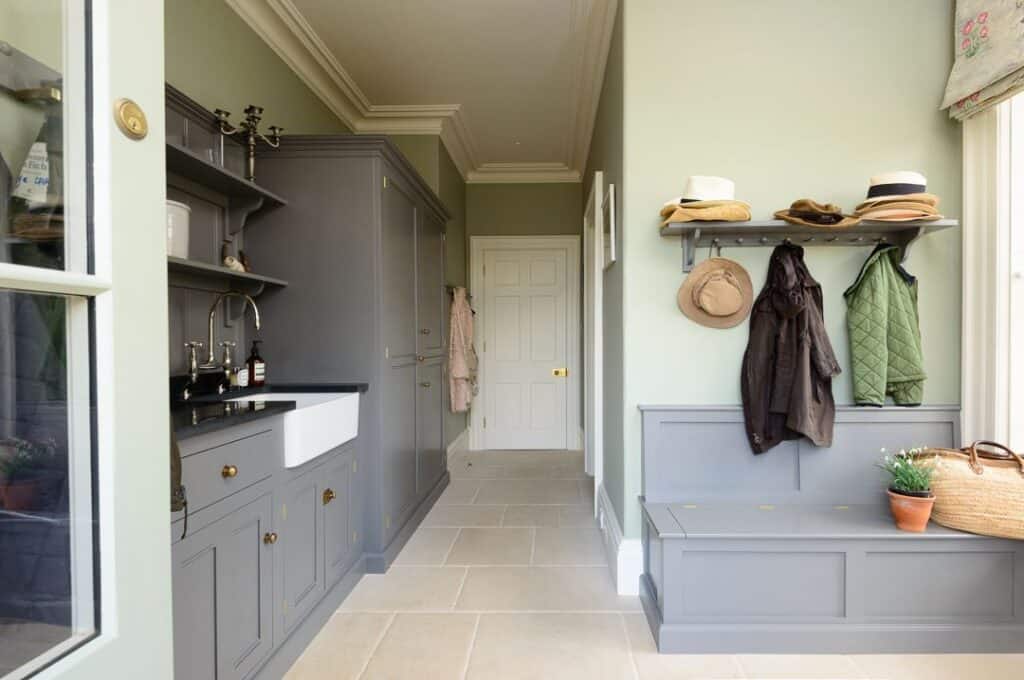 Customizable Cabinets for Your Lifestyle
The best news about this room… it's so easily customizable to meet your explicit needs.
Custom shelving, cabinets, and storage drawers: what you envision is what you'll get. Add extra
unique features that speak to you and make your mudroom the most efficient space.
Custom, floating cabinet shelves are easy storage access. Add built-in hampers covered by a purposeful counter top to sort and fold. Nooks for a more asymmetrical and unique feel, and seasonal storage area to organize and stash in a personalized and practical way. Your mudroom is a place to obtain a more suitable and neat space. When constructing new homes, or revamping your current quarters, allow McCabinet to help you achieve your picture-perfect mud room based on your family's lifestyle and hobbies.
Contact our Custom Mudroom Cabinets Experts
Contact our designers and installation experts to help integrate the abundance of functions that The mudroom can provide while meeting your exact needs. Be creative and give this space its full potential!