Top Cabinet Color Trends Of 2022 to Refresh Your Kitchen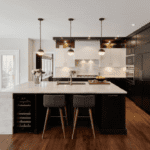 Trying to mine the latest and greatest cabinet color trends for your kitchen in 2022? Picking cabinet colors can be daunting, but it's also one of the most essential verdicts when designing your picture-perfect space. It's the "heart of the home".
At McCabinet, our team wants to provide you with quality cabinets, designed with your lifestyle in mind. Design, Service, and Quality is the motto we live by. Our design team is dedicated to making sure your sublime vision comes to life. When crafting your ideal kitchen, everyone's eyes are focused on what's the latest and greatest, rather than peering into the future and setting your eyes on what's next.
Well, what's next regarding these future cabinet color trends you might ask? Keep reading to find out from our team of designers, installers and home design professionals.
Cabinet Color Trend #1: Black Cabinets
Bold Black is back. Black is striking, stark, sophisticated and makes a statement. Black is the "It" color. It is symbolic for its mystery, power and elegance. Black adds drama to the focal point of the house. Soften blacks' austerity by choosing one of the many blacks in the rainbow. Yes, rainbow. Black comes in many different shades, tones, and intensities. Carbon, charcoal, ebony, or jet, let these shades guide your mood. Black cabinetry elicits an overall more solid and grounding feeling that fashions a room towards greater depth and contrast. Dress your kitchen as you would dress yourself. Black is classic such as your choice of clothing, so think of your cabinets as your kitchen's clothes. Let the black speak for its sleek, classic and notable "outfit" to comfort and revive your kitchen. As you live in this space, sanction the black to draw you in, and signify your bold neutrality.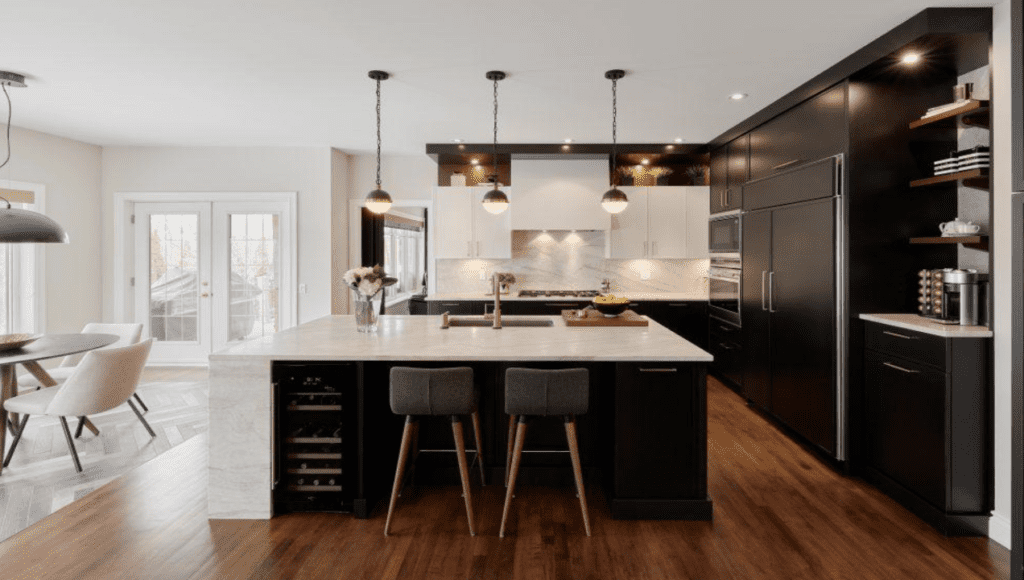 Green Cabinets
This vibrant color floats in and out of trends, but what's buzzing right now? Green. It's a must-have. Green is safe, timeless, and adds that extra pop of color, all while still being soft and subtle. Green represents newness, advancement, and sustainability. It's a resurgence of unique neutrality. Earthy green tones add versatility to any kitchen and make it easy to incorporate so many different color favorites into one common realm. Green adds life, whether that is Sage, Essex, Deep Emerald, or Dark Hunter, your space transforms into a natural, organic and peaceful sanctuary.
When choosing the most advantageous green, an unpopular yet successful opinion is to choose the counter-intuitive shade. Select the option that suits you, and embrace the light of each room. Today's kitchens can benefit from a range of adventurous greens that can illuminate a space or play up the organic nature, filling it with softness and warmth. Green evokes the idea of "reconnecting" with nature and bringing the beauty of outside, in. Allow each shade of green to express your growth and rejuvenation.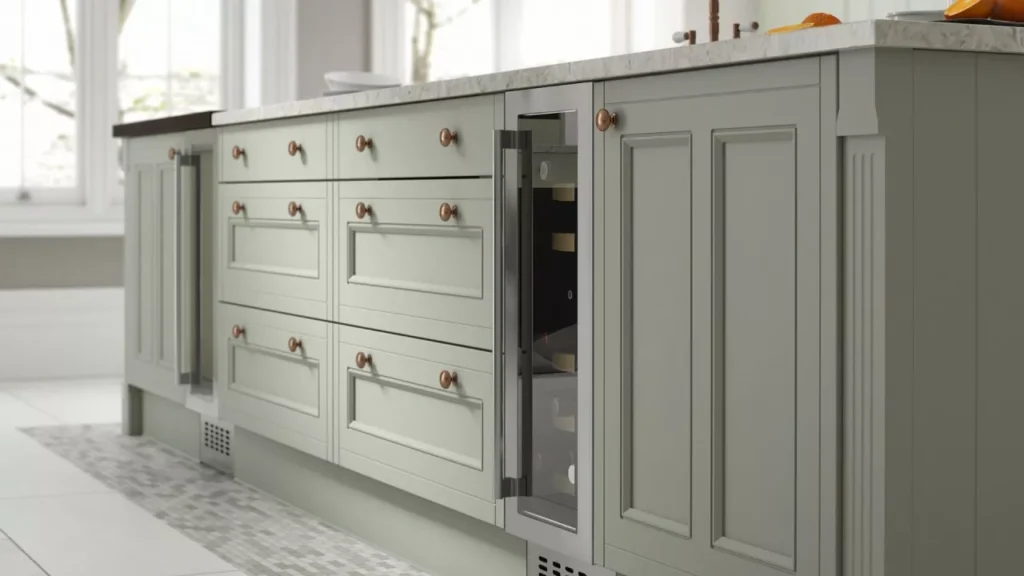 Earth Tone Cabinetry
Shades of whites will always be a classic for kitchen cabinets, but 2022 put a little twist on that. Take white, and turn that into warm terracotta, rich earthy tones. This allows for the exposed warmth to capture and lure you into the heart of the home. These tones embrace texture and emphasize a cozy vibe. Earthy tones are burgeoning as the evolution of stark white, turns warm. Add personality to your white and let the warmth shine through.
These mild and toasty colors are enlivened by the comfort that this mellow palette brings. Reclaimed and nature-inspired wood is on its way to a kitchen cabinet comeback, and you don't want to miss it. Soft cabinet tones allow a room to feel significantly bigger, and just like your heart, construct that space to be as open and alluring as possible.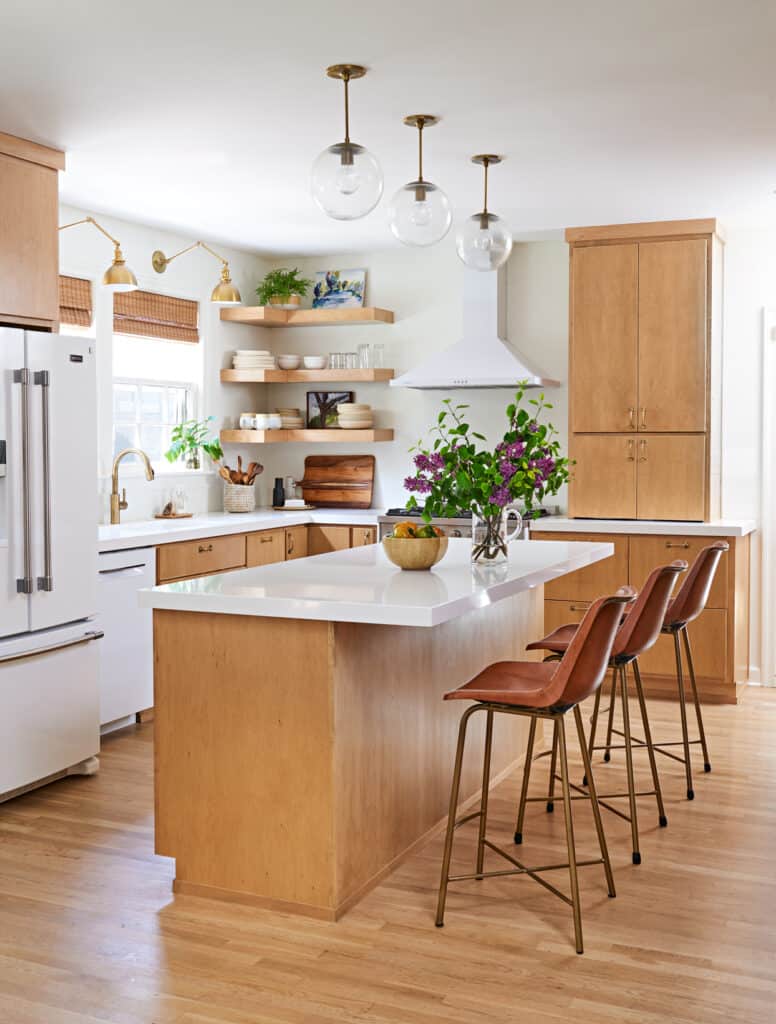 Cabinet Shades of Blue
Blues, blues, blues. Out with the melancholy blues, in with the carefree, composed, and serene layer of kitchen cabinets to enhance the heart of the home. It's time to redefine your kitchen with deep blues to introduce your tranquility, wisdom, and intelligence. As rich blues begin to fill your cooking space, let your inner sagacity out. Navy cabinetry is classic, practical, and stylish. It lends a comforting, inviting and inclusive feel to your home. Call it a "sophisticated upgrade".
Let periwinkle, baby blue and turquoise embrace your frolicsomeness, high spirit and serenity. Emphasize your confidence and strength with a navy and royal blue revamp. This ingenious addition of muted blue cabinets creates the perfect balance of cool and contemporary.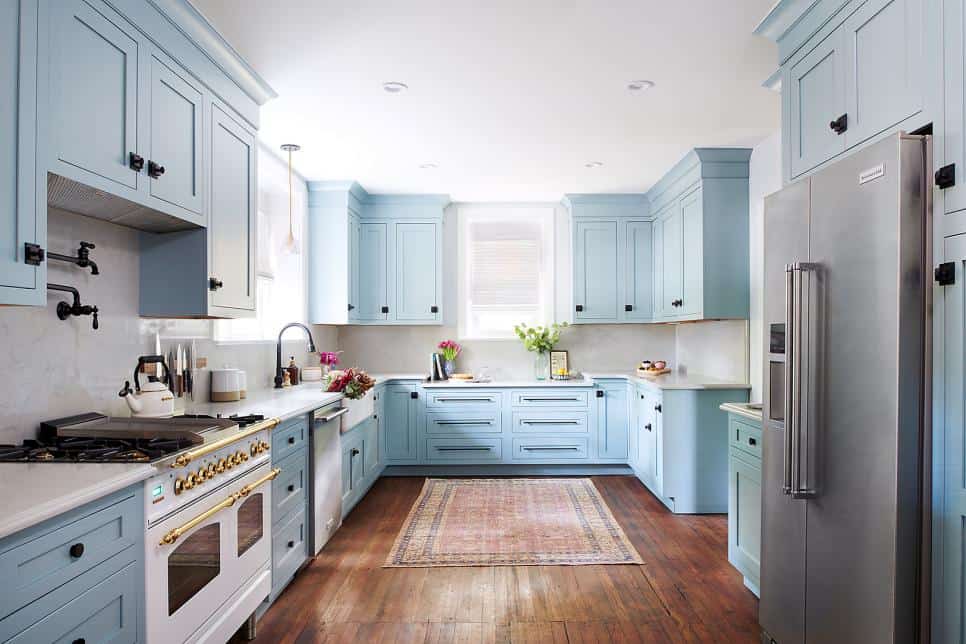 McCabinet Knows Cabinet Color Trends
Who knew the discussion of cabinetry would evoke so many emotions? The common theme of rebirth, comfort, and timelessness that is embedded in each one of these colors serves to emulate the renewed and enjoyable heart of your home. Let your sensations design and transform your cabinetry into the vision you've always dreamed of. From bold blacks, greens, earthy tones, and blues, allow your thoughts to inspire your revivified kitchen cabinets.
Let McCabinet's team help forge a kitchen that is a reflection of you. Schedule an appointment today.