Meet the McCabinet Designer: Annie Brown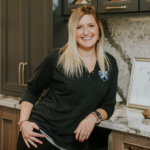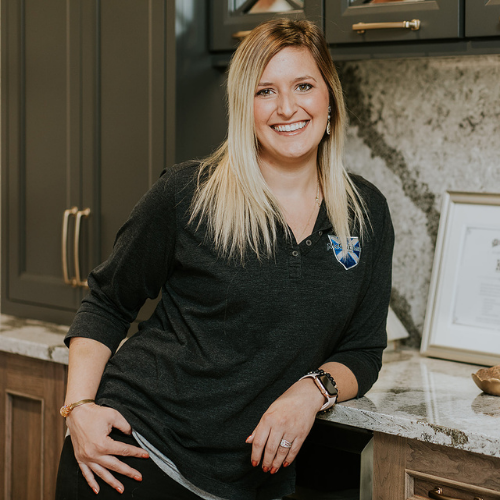 Meet Annie, McCabinet's Newest Cabinet Designer
We're incredibly happy to introduce you to a talented new face to join our award-winning cabinet design team. Keep reading to learn a little more about Annie and help us welcome her to McCabinet.
Where were you born and raised?
I was born in Omaha, Nebraska and grew up in Lincoln which is only 1 hour away. I lived in Lincoln all of my life, went to school in Kearney, NE and then moved to Omaha after graduating from College. After living there for over 10 years, my husband and I decided it was time for a change and moved to Florida spur of the whim.
How did you get started in the industry?
I graduated with my interior design degree and once I was out of college, I looked all over for jobs. At that time, nothing was available with the market crash but a short time later I got a call from a design company. It wasn't in retail as a designer, but in wholesale. This wasn't my "dream job" persay, but got my foot in the door and led me to where I am now!
What is your favorite part about design work?
I love to get creative and make a 3D rendering look realistic. This helps the customers to get a real feel for what they will be getting, and not just guessing.
Which room is your favorite to design?
Kitchens, hands down! I just love that there are endless possibilities with layouts, types of homes, styles, etc. It makes it much more fun to be able to have variety and not do the same design time after time.
Describe a project you've done that you are most proud of and why?
I have done many amazing and beautiful jobs that I can say are my own design- I love when customers let you take over, and just design the way that you want and know how.
What is your favorite part of your job?
I love the diversity of people's ideas and thoughts that I get to bring into designing a space. It makes it so much more personable for them as well.
What is your personal design style?
I would say rustic farmhouse would be my go to. I love the industrial yet clean and simple details combined together that make a statement.
What are some design elements you love when customers add-in?
I love when they get creative with different and unique colors that not everyone is using. Helps to keep things interesting and fun!
Do you have any hidden talents?
I love to do paintings on canvases- usually abstract, but I have done a few fun pieces that were unique. I also love to bake and garden!
Do you have any pets?
Yes, 2 dogs. Dooney is our chihuahua and Burke is our German Shepherd/Bull Mastiff mix. Love them both to pieces! And yes, that is referencing the purse brand- Dooney & Bourke. 😉
What's your favorite way to spend a day off?
I love being with my family and my kiddo who is almost 3 now. We love to spend time at the beach, by the pool, or going to find fun new activities! We also like to just relax and just watch movies, hang out with friends, etc. We usually stay pretty busy!
McCabinet Designer LIGHTNING ROUND
Chocolate or vanilla?
Chocolate all the way- give it all to me!
Coffee or tea?
Tea- I just like an unsweet, black but there are some flavors that are amazing too (no sugar at all!)
Ocean or lake?
Ocean for sure! That is why we moved here! 🙂
Cold or hot weather?
HOT!! We left the cold behind
Sweet or salty?
Now that one, I can't choose because I love them both! YUM!
Extrovert or introvert?
Extrovert for sure- I can definitely be shy at first but I will definitely open up quickly
Favorite local hangout?
None yet- tell me where we should be going!
Favorite food?
Mexican- can't get enough
Favorite color?
This is a hard one- It depends on what it is for. So many things that I have favorites for, so if you ask I will tell you. Too many to name here!
Favorite sport or team?
Kansas City, Royals for baseball, and Nebraska Huskers for football!

Contact McCabinet Custom Cabinetry
Meet this amazing McCabinet designer for yourself! Schedule a visit to our Largo, FL showroom or call us today at (727) 608-5929.
You will be blown away by the skill and expertise of our entire team, from the designers to installers, support staff and everyone in between! If you're looking to add custom cabinetry to your home, don't do it alone. Contact us today!
Leave a Comment
You must be logged in to post a comment.