Trends for the 2018 Kitchen and Beyond
With every year, comes new design trends! This year will bring many changes in defining spaces, adding colors and innovative touches to make life easier in the kitchen. Here are some of this year's new trends:
Dedicated Chopping & Baking Stations
Starting off the year with something functional to add to the kitchen, a separate baking station! By adding this feature, using a rolling pin and other baking essentials is easier due to the height of the counter. This is a trend we are glad to see!
More Color-ish Kitchens
The white kitchen will always remain a classic favorite and will never go out of style, but in 2018, expect to see more cool neutrals such as blues and grays mixed in with white to use as a contrast or as all the cabinetry.
Antibacterial Surfaces
A new aspect to kitchens that is new in 2018 is installing surfaces that are antibacterial. There are counter top surfaces that can help purify the air while eliminating chemicals in comes into contact with.
Dining Tables in the Kitchen
Going back in time a bit, this trend seems like something out of the 1950's. Having the dining table in the kitchen (be it one like the https://www.luluandgeorgia.com/furniture/dining-room/dining-tables offerings, or perhaps an heirloom) is something homeowners are gearing towards instead of an island. Not everyone wants a large island to eat at with family or have the room for an island, so having a table in the kitchen instead is a great alternative.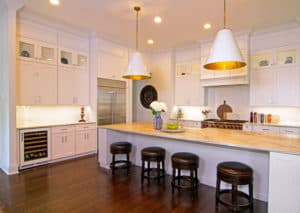 Defining the Kitchen in an Open Floor Plan
As much as a very open floor plan is better than an completely closed off one, many homeowners are tired of all the openness and want a defined space. By building a half wall with pillars and a countertop, it will separate the room and add more counter space!
More Countertop Detailing
Another interesting trend of 2018 is adding new additions to your countertops such as grooves to aid in drainage of wet plates to travel straight into the sink.
Fewer White Sinks
White and stainless steel sinks have had their days, or rather years! This year, expect to see concrete sinks and copper sinks in darker colors. You may want to think about using a product like Cheng concrete sealer for all your concrete kitchen countertops can better protect them from damage meaning they will have a longer life.