Introducing The Galley Sink
Many new innovations present themselves to the kitchen and bath industry every year, but not many are as captivating as The Galley sink. The Galley sink is the first of its kind combining a sink with the functionality of a well thought out work space.  The idea for the sink was conceived by an award-winning kitchen and bath designer who wanted a centralized work space where all tasks could be completed. The simple idea has now grown into a business that crafts its genius in the United States.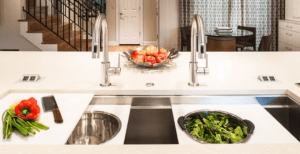 The sink comes in several different sizes to make cooking and cleaning convenient for your sized kitchen. The sizes range from 2 feet which is about the same size as your typical farm sink, all the way to a whopping 7 feet! The bigger the sink the more inserts you'll have room for! For example, the 2-foot workspace comes with a 5-piece culinary kit while the 7 foot sink comes with an eleven piece culinary kit. Culinary kits include accessories like, drying racks, cutting boards, and colanders and much more with the larger sinks. Culinary kits come in a variety of different colors and materials such as bamboo, graphite, high intensity white or grey resin.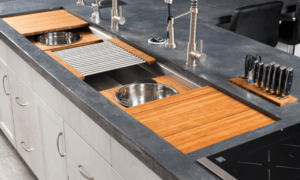 What fun would a large and in charge sink be without a ton of other fun accessories! So, Galley has made sure that there are plenty of fun extras to add to such a workspace such as:
Dual-tier Condiment Board
Upper-tier Garnish Board
Stainless Steel Wash & Serve Basin
Chef's Cutting Board
And lastly, the coolest accessory, a built in Knife Block!
The Galley sink is certainly a lifestyle and much more than your typical sink. It is great for entertaining and will be the show stopper at every party.
Learn more about The Galley Sink by clicking here