Glamorous Bathroom Design Ideas
Adding a little glamour to your bathroom design can help transition a dull, boring or builder-grade space into a one of a kind and special retreat.
When transforming your bathroom, select key elements to upgrade to get the most bang for your buck.
Here are our designers' tips to get the most out of your "glam" choices.
Consider Changing Your Hardware or Accessories:  Color It "Gold"
There are countless hardware and accessory options that can breathe new life into your space. Muted golds and brushed bronze hardware are both increasing in popularity, and offer a glam feel. Both gold and bronze tones brighten up a space and have a luxurious, expensive feel.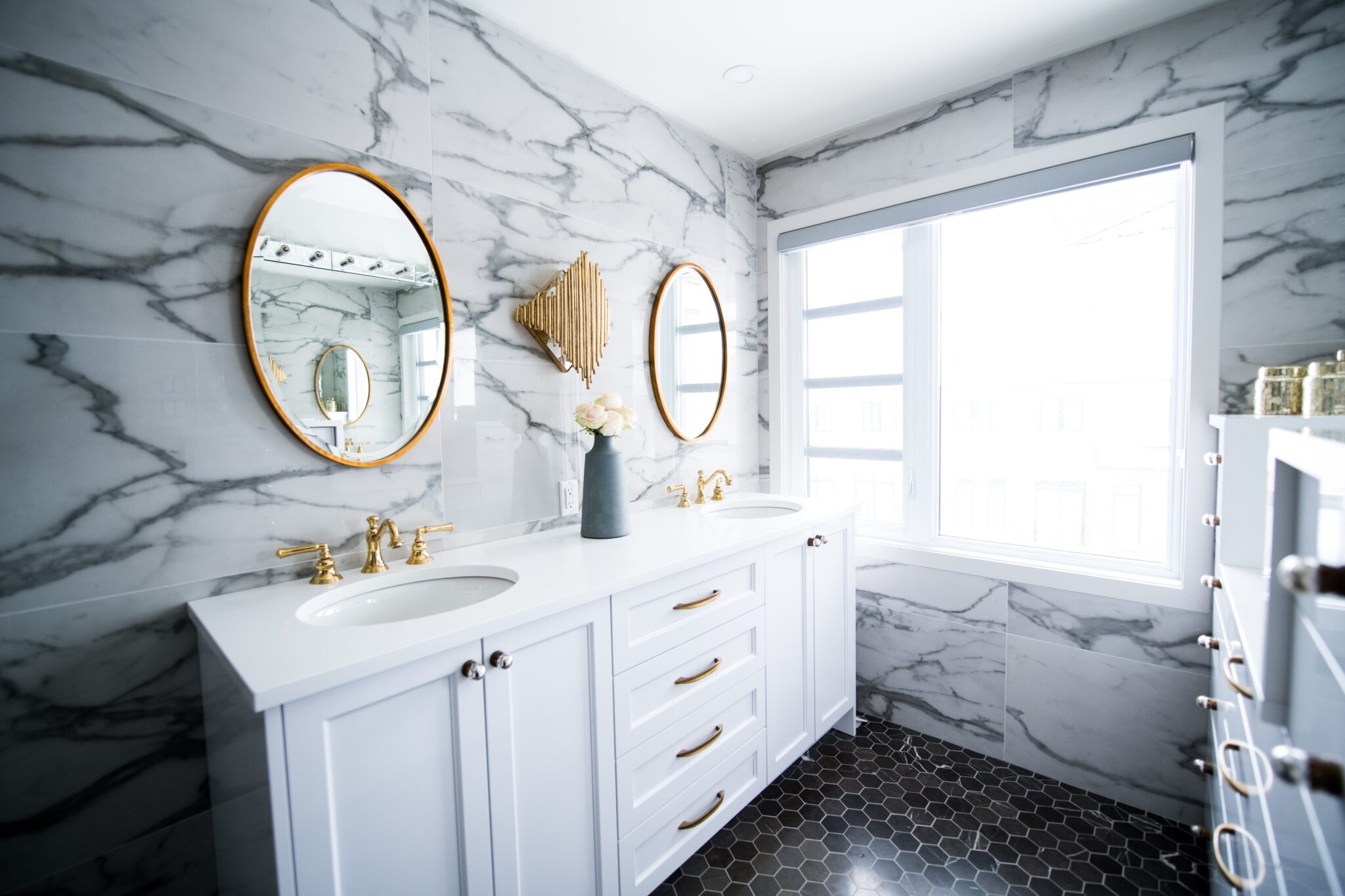 While mixing metals is no longer a faux-pas, and can actually add interest to a room, you may want to consider matching shower, vanity fixture, and cabinetry hardware.  This will add a bold "wow" factor to the overall look of the room.
Hardware is available at a variety of price points to fit most budgets and can be found in both traditional and modern styles to flow with the rest of your design.  Even just replacing the hardware at the sink base can add an unexpected glam accent. 
Wallpaper Is Not a Sin: "Metallic" It Up
Wallpaper is back, and it is beautiful! Wallpaper can be a fantastic option to add a little opulence, especially in a half bath where humidity is less of an issue.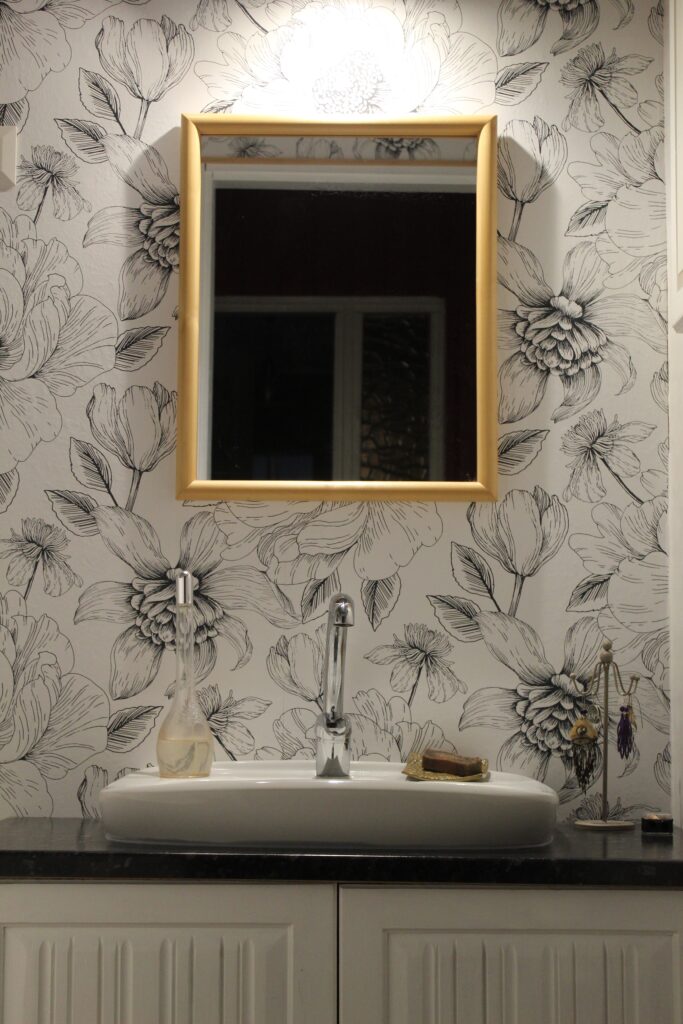 Wallpaper allows you to reimagine your space with not only colors but patterns. Metallic wallpaper is a big trend in the marketplace, and comes in traditional or self-adhesive styles that can be installed in a weekend.
Upgrade Your Bathroom Cabinets: "Detail" It Up
Updating your bathroom cabinets will make your bathroom feel brand new.  Bathroom cabinets can be pre-fabricated, semi-custom or custom.  
At McCabinet, several of our semi-custom, custom and furniture-grade cabinet lines offer "custom color" programs, so you are able to select just the right "pop" of color to add a touch of unexpected lavishness.
By creating a custom vanity area for your bathroom, your space will feel upgraded just for you. Create a bathroom retreat with custom configurations that make sense for your space. You can even add decorative toe valances, legs or feet for a furniture look.
Add or Change Backsplash Tile: "Change" It Up
If a design overhaul is too much to consider due to time constraints or budget, consider adding or changing your backsplash tile. While this does require preparation, and often times a professional, it will save you money over replacing all of your tile.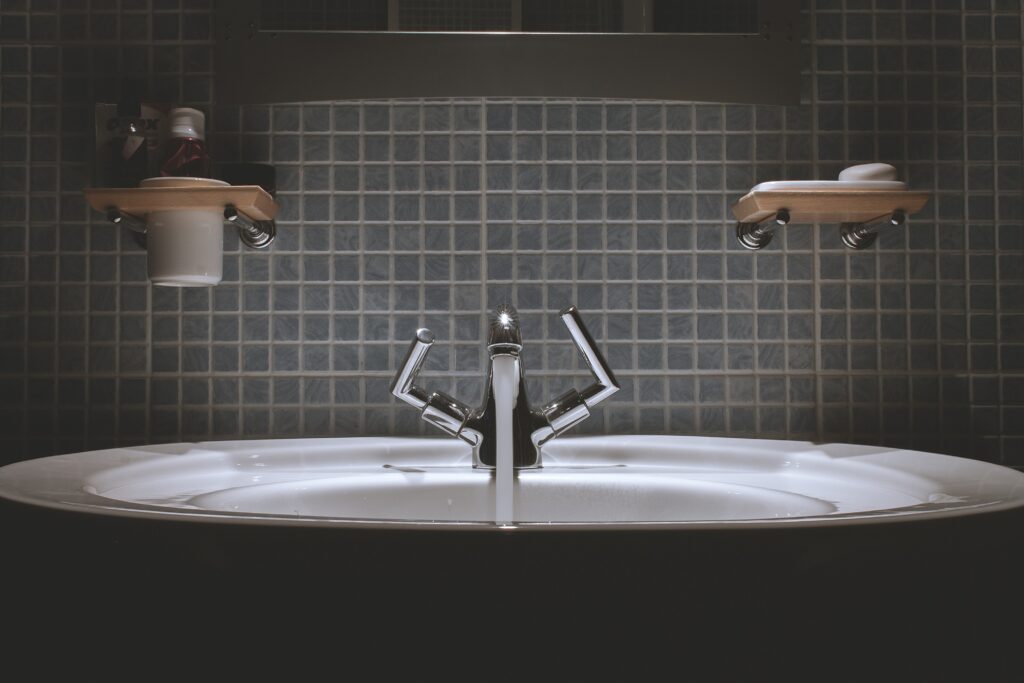 Adding a reflective, shiny, or metallic tile to the focal points of your bathroom can add a touch of glitz and glamor without feeling too opulent.
From glass tile to mother-of-pearl mosaics, there are so many options to choose from for your bathroom backsplash. Consider laying tile in an unexpected pattern, like chevron or herringbone for an eye-catching look.
Lighting Changes Everything
Updating the lighting in your bathroom is the simplest way to transform a plain space into a glamorous bathroom design.  
There are no hard rules for bathroom lighting. Rethink the traditional vanity lighting options and consider beautiful sconces or even pendant lights. Try to light from several sources to help create dimmable, flexible, and glamorous mood.
Pair your new lighting with updated mirrors for a quick bathroom rehab.
At McCabinet, we specialize in helping people create their dream bathrooms. Schedule an appointment to meet with a designer today to see what we can do for you!