Häfele's Loox LED Lighting System
The Loox LED Lighting System is the industry leading lighting solution for cabinetry, closets, and furniture.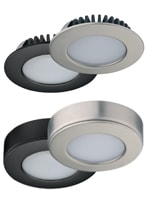 Häfele's Loox LED cabinet lighting system is unique because it was specifically engineered for cabinets and to meet the needs of kitchen designers and manufacturers. The Loox system also includes a wide assortment of switches that allow for dimming and motion sensors specifically designed for cabinet applications.
For all its advanced technology, the Loox system is unique in that it is completely "plug-and-play"  and all the components, connectors and voltage systems are color coded for goof-proof installation. Plug and play also means that no electrician is needed. This is wiring you can do yourself; there's no need for cutting, soldering or 110-volt tie-ins. Just drill holes for wire routing, mount the fixtures, and plug the driver into the nearest wall outlet.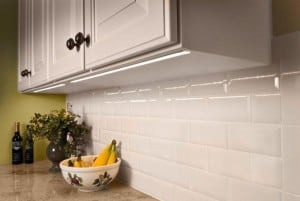 Once installed, Loox systems remain virtually maintenance-free. Customers appreciate the 50,000-hour LED life as well as the 90% energy savings. In short, LEDs generate less heat, use less energy, and have a long service delay. Plus, LED systems are "instant on" at full brightness. From affordability and ease to flexibility and functionality, integrating LED lighting into cabinetry is a smart option.
McCabinet is happy to be your source for LED lighting!