How to Customize Your Kitchen and Add a Personal Touch to Your Space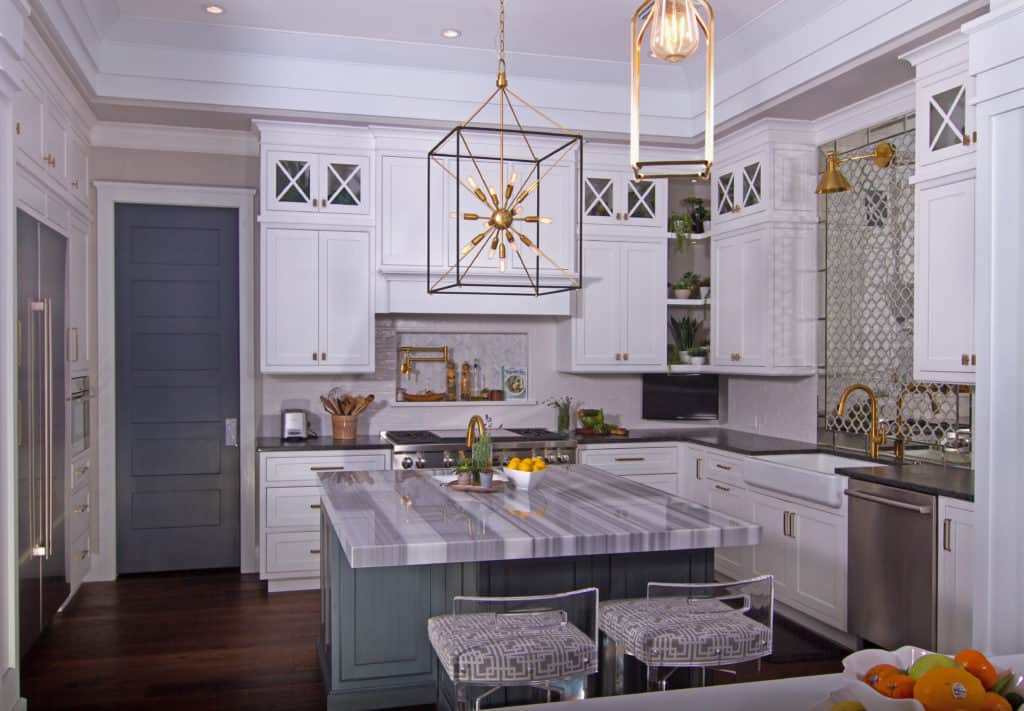 We sat down with lead designer, Tricia Guy, to learn some tips and tricks for customizing your kitchen and incorporating your personality in to your other spaces.
What can I do to add personality in to my kitchen?

There are a few things you can do to add personality to your space. One of the easiest ways is to add your favorite color to an accent wall. Another suggestion is to incorporate a theme, or hobby you love.
What are some neat things you've seen families do to incorporate their unique personality into their spaces?

There are so many options to add your personality in to your space to really make it shine.
One of my favorite kitchens that I worked on was for a woman who loved jewelry. We were able to select jewel embellished hardware that really reflected her love of all things sparkly.
I also had a gentleman who loved fishing, but his wife hated all his fishing gear lying around. We were able to incorporate rotating storage unit behind doors so that all of his fishing gear was easily accessible, but hidden out of sight. Everything looked clean and tidy.
Now, for something fun outside of the kitchen… I worked with a couple who loved dogs. We incorporated photo printed tiles in their laundry room backsplash. It was adorable. You can always incorporate patterned or printed tiles in to any room in your home.
It's always important to remember to think outside the box and get creative.
What can I expect at my first appointment/consultation?

A good designer's inspiration will come directly from the client's input. Space can be, and should be so personal. In a unique room, there aren't necessarily rules! I like to explore different options, and come up with a "wow" element that makes the client say, "Now that's what I'm talking about!"
Is there anything I should bring to a consultation to help describe myself and my needs better?

Bring anything that helps describe your likes and dislikes. Photos speak volumes. Inspiration can come from a vacation, a magazine article or advertisement, or Pinterest just to name a few. Collect your ideas and share them with your designer!
I am redesigning my kitchen on a budget. What are some lower cost options to really help personalize my space?

Take one element in the room, like countertops. Maybe your counters always look cluttered, so a new storage option would be a good bang for your buck. In this case, I'd suggest finding some unique containers to use for storage. Maybe the containers you find aren't meant for kitchen storage… so what?! Give them a try! You'd be surprised how bringing in unexpected elements can liven up and personalize an otherwise boring or dated space.
I'm not able to do a full kitchen remodel, but want to add some personality in to my space. What are your best tips on a budget?

Start by looking at your lighting. Updating your lighting can make a huge impact. Recessed lighting can easily make low ceilings look higher. Adding a new fixture over an island or peninsula can also add a real "wow" factor. There are some beautiful island lights and pendant lights available on the market at a low cost that can update your space so simply and elegantly.
Another option to explore is updating your hardware. If it's too expensive to update all hardware, you can always start with hardware on your upper cabinets and pantry.
You can also repurpose furniture for kitchen use. An antique chest can turn into storage, for example. I love using unexpected pieces in the kitchen.
There are so many options to personalize your space. Let the experts at McCabinet help you define your likes and must-haves to create a beautiful and functional custom space in your home.