6 Tips to Select the Perfect Backsplash
Your kitchen backsplash is like the frosting to your kitchen. Without the backsplash, your kitchen is like a cake without frosting (like a naked cake, but those are actually popular right now). It can get so overwhelming, there are so many options! How can one choose only one?
Here are 6 things to consider before selecting a backsplash: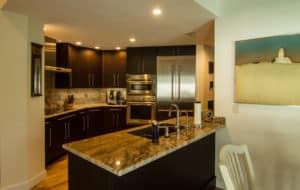 1) What type of look are you going for? Do you see your kitchen with more color or neutral tones? Yes, color makes a big statement in your kitchen, but will you love that shade of teal forever? Going with a more neutral color allows you to play with color in other ways in your kitchen.
2) Next, think about height. The height is often a detail that is overlooked. Often, cabinetry is a deciding factor for the height, but you may have the option to go up to ceiling height around your sink or cook top area.
3) Here's the next fun part! Just as important as color is the type of tile you use! There are so many options such as, glass tile, ceramic, brick, and hand painted tile. Glass tile has a  shiny gloss to it and will make a big statement in any kitchen. Ceramic tile is made from clay and is permanently hardened by heat. Bricks are rectangular blocks of clay dried by the sun. For a more historical look, research any old buildings that are being demolished and often you can pay to save those bricks. Hand painted tiles are just as they sound, and could run the most expensive depending on which part of the world you purchase them from. The materials you use all depend on the style of your kitchen and the look you are aiming for, but all are beautiful options.
4) Consider your counter tops! This one seems like a no brainer, but some may get so caught up in the specific color they want that they forget their countertops. If you have a natural stone with many veins and speckles, chose a backsplash that will complement the stone with more neutral tones.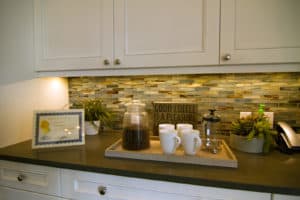 5) Next, it is time to think about the shape and pattern! If you are going for more of a classic look, stick with horizontal or vertical lines. If you want something a little more unique, try a shape/pattern that is new and daring in a neutral tone so you have the best of both worlds!
6) Lastly, what to consider before pulling the trigger on your dream backsplash, your budget. If you have a budget on the tighter end, consider getting tile that is in stock. Keep in mind that certain glazes and specialty shapes will cost a bit more. The best thing about backsplashes are that there are thousands of them, so you are surely to find one that works best in your kitchen!
To begin your search for the perfect backsplash, check out Emser Tile and Daltile