Kitchen, Bathroom and Closet Designer McCabinet Offering Affordable Custom Cabinet Design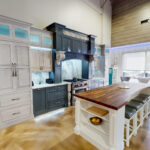 City-mandated quarantines, curfews and social distancing mandates caused by the spread of COVID-19 may be limiting the amount of interaction those needing kitchen design, bathroom design or closet design services can have with their chosen designers. But, not to worry, McCabinet is not only on the cutting edge of design but also on technology – and we have found a way to come to you!
Our design center in Largo is classified as an essential business under the "Safer at Home" order issued for the State of Florida.  While many companies are closing their doors and furloughing employees, McCabinet is remaining open while adhering to the CDC guidelines for essential businesses…and we can't wait to help you design your dream space!
Take a Virtual Tour of our Largo, FL Showroom for your Custom Cabinet Design Needs
We are so excited to share our virtual tour of our Largo, FL Design Center.  You can now take a virtual walkthrough of our showroom from the comfort of your couch.  Stream our tour to your Smart TV or tablet, or even to a VR device!  Give us a call and one of our designers would be happy to "walk" you through our showroom.
We are able to virtually review your current kitchen space, design a mockup of your space, and review cabinet choices all without ever stepping foot into your home.
With so many people hoping to use this time at home to tackle a few home projects, McCabinet would love to help with your custom cabinet needs. Our American-made cabinets are available to ship and production has not been interrupted by the pandemic.
McCabinet is a Family Owned and Operated Business with a Focus on our Customers
McCabinet is a family-owned and operated business and it is important to us to continue to serve our community during this time. Our kitchen designers, bathroom designers, and closet designers are able to bring your vision to life. Give us a call today to see what we can do for you.